What is the "end game" really mean? Achieving an objective by certain individuals, groups or political entities for an intended outcome? We can dig into our cultural archives to see what people such as Rod Serling was trying to warn us about, but at the time, people were too comatosed on consumerism to even care about such warnings and thus chalked it up as mere fiction. We see this in today's cultural Marxists known as the left where pointing out such warnings is met with dismissal in the form of altruism where the dangers of encroachment of civil liberties has now been breached. Leftists of the extreme kind are not our friends thus have no use in the greater discourse of what is happening when it comes to regaining our freedoms in the shroud of COVID restrictions, however the elitists who seek to occupy public office will use them in order to seek an advantage to gain power. The problem is, whether or not they have the numbers to do it. If election integrity in terms of a verification process, or the rule of law being restored is not achieved then its game over.
So, back to the "End Game"…
What does Biden's fraudulent election, Gofundme, the Canadian Trucker protest and COVID all have in common? In layman terms those dots are not readily connected as basic necessities of life take a higher priority than focusing on the macro of protests and political machinations that seem treasonous with a MSM adding to the fodder of distractions and petty divisions. However the end game is implementing a cashless system, complete with a robust surveillance arm and digital base to which compliance is the objective. No force is necessary if one gets shut out of society for not obeying the wishful demands of totalitarian dictators who wall themselves with armed security and layers of bureaucracy.
The Five eyes already have such a system in place and have been moving forward with this plan for quite some time. Imagine this same scenario - where everyone is in a digital ID system. There will be no need for strong-arm tactics nor police intimidation. The state will simply "lock you out" of society if you do not comply. Digital ID = global surveillance & absolute compliance.
This is what its all about:
"By 2030, our goal is to enable access to #digitalidentity for every person on the planet." — 2017 ID2020 Summit
2014: ID2020 public-private p'ship
2016: ID2020 Alliance: Accenture, #Microsoft, #Gavi, #Rockefeller, IDEO
2021: ID2020 launches #GoodHealthPass
This is the system Canada (& the other FiveEyes are implementing now. Make no mistake, this is absolute digital enslavement. We are at a pivotal juncture. If you are not behind this #workingclass uprising, you are on the wrong side of history. #UNITY
The Canadian Trucker protest is much more than mandates and protests against COVID pass, but a protest against what the larger objective is and where its going, so either the Truckers fail or they prevail to prevent this from happening because if it does there never will be another free election or free society ever again.
What the China Credit score system is, and was, is a proving ground for the rest of the world especially FIVE eyes countries that are seeking to import this system in order to have total control over the masses, something I have been a dog whistle on for quite some time, only now more and more people are starting to wake up to the fact that we are now ever so close to its realization of being implemented world wide.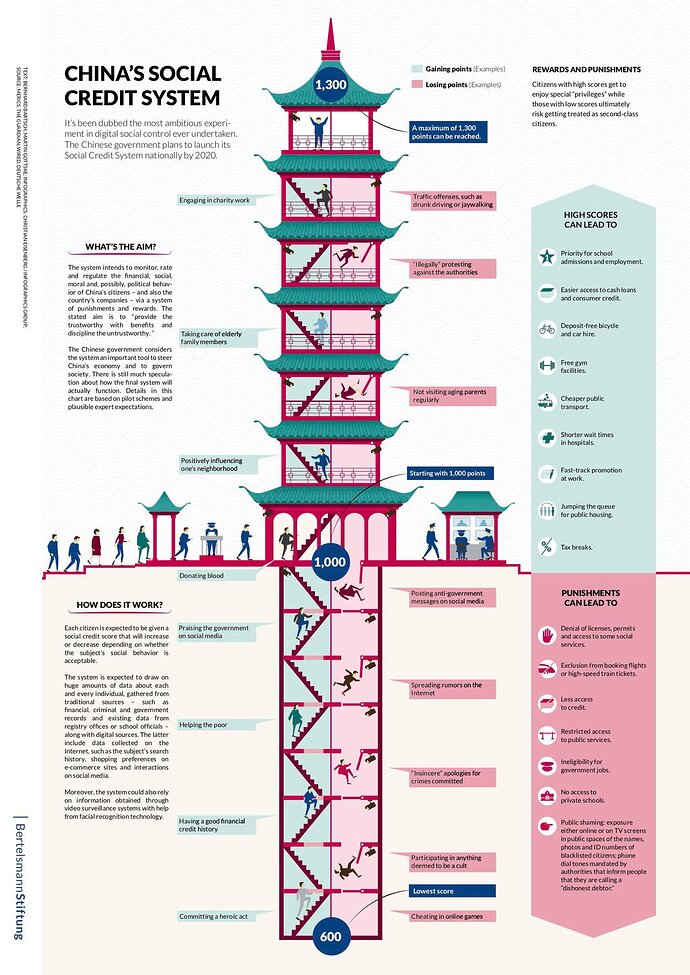 I am just the messenger, and hope you are paying attention because the end game is here and fighting against it will be the difference in defeating the elites in order to regain our freedoms or being enslaved by a digital culture to which ordinary life will be gone forever.