Curfew for adults, mommy government may tell the laughable population in Denver thy must b in bed by 11PM next.
Denver says all residents must be home by 10 p.m. to curb the spread of COVID-19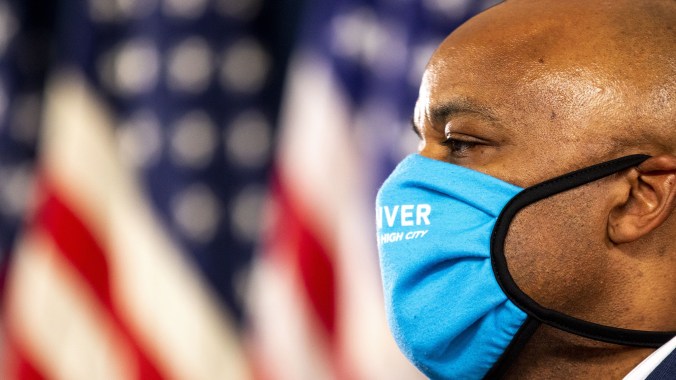 Mayor Michael Hancock joins Gov. Jared Polis for a press conference about a statewide mask order. July 16, 2020. (Kevin J. Beaty/Denverite)
As coronavirus cases in Denver continue to rise, Mayor Hancock has announced a 'Home by 10' order for Denver residents.
The order, which Hancock stopped short of calling a curfew, begins Sunday, Nov. 8 and will be in effect for 30 days.
The announcement briefing comes a day after Gov. Jared Polis pleaded with Coloradans to take action as COVID-19 hit new records for infections and hospitalizations.
"This is an intervention," Polis said Thursday. "Cancel your social plans the next few weeks, avoid interacting with others, wear a mask, keep your distance, let's get through this."
Thanksgiving has been cancelled until next year, so says the dictator Polis.