< Top < Rika's TOKYO CUISINE
ChefRika Yukimasa
She is a "cooking researcher" who uses her own original techniques to introduce cooking that everyone can enjoy. She has written books on such diverse themes as Japanese cuisine, home cooking, entertaining, and cakes and sweets. In the program, she both introduces the Japanese food culture now drawing attention abroad and proposes her own easy-to-make Japanese recipes. She offers ideas, too, for alternatives to items and utensils that might be hard to obtain abroad so that you can make your own Japanese-style food wherever you happen to be.
HostPatrick Harlan
Born in the USA and now one of the best known foreign-born entertainers in Japan, in addition to playing the funny man in comic duo Pack'n Mack'n, Patrick is an accomplished actor, radio DJ and TV personality. His Japanese skills, Harvard education and comedy credentials give him the depth and credibility to succeed in a variety of roles. Patrick's solo work ranges from TV dramas to game shows to commercials, from political commentary to picture books.
Recent Dishes
Feb. 28, Fri.
Japanese Vegetarian Cuisine
Feb. 14, Fri.
Donabe Hot Pot
Jan. 31, Fri.
Onigiri [Rice Balls]
Jan. 17, Fri.
Korokke Trio
---
Jan. 3, Fri.
Three Wasabi Dishes
Nov. 29, Fri.
Shrimp Chirashi Sushi
Nov. 15, Fri.
Ten Don [Tempura Rice Bowl]
Oct. 18, Fri.
Veggie Miso Ramen
---
Sep. 20, Fri.
Roast Beef Sushi
Aug. 16, Fri.
Chicken Rice Burger
Jul. 26, Fri.
Three Ginger Dishes
Jul. 19, Fri.
Rika's Shoyu Ramen
---
Jun. 28, Fri.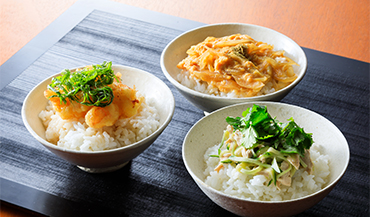 Donburi Rice Bowls
Jun. 21, Fri.
Two-minute Steak with Wasabi Sauce and Rice
Jun. 7, Fri.
Tuna Sashimi Three Ways
May 24, Fri.
Okonomiyaki
---
May 10, Fri.
Rika's Napolitan
May 3, Fri.
The Classic Nori Bento
Apr. 19, Fri.
Dry Curry Rice with Omelet
Mar. 29, Fri.
Cheese Tonkatsu with Umeboshi
---
Mar. 1, Fri.
Teishoku Meal Set with Pork Spare Ribs
Feb. 1, Fri.
Sake-steamed Salmon, Potatoes, and Clams
Jan. 18, Fri.
Ten Don [Tempura Rice Bowl]
Dec. 28, Fri.
Simmered Kinmedai Alfonsino
---